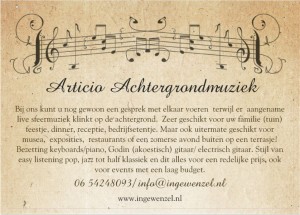 Wij verzorgen voor u  als duo, instrumentale achtergrondmuziek voor uw intiem familie (tuin)feestje, dinner, borrel & recepties, musea, exposities. In restaurants of een zomerse avond buiten op een terrasje!
Bezetting:
keyboards/piano – Inge Wenzel
Godin gitaar/ electrisch gitaar – Aart van Overmeir.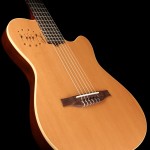 Bij ons kunt u nog gewoon een gesprek met elkaar voeren met aangename muziek op de achtergrond.
Stijl van easy listening, jazz tot half klassiek en dit alles voor een redelijke prijs, ook voor events met een laag budget.
Neemt u a.u.b. contact met ons op voor meer informatie en beschikbare data.
info@ingewenzel.nl
06 54248093
voorbeeldjes: klik links van de audio speler in het zwarte gedeelte naast de teller of op de song titels.
Live video clip – Landal Greenparks 2016