***NEW SINGLE RELEASE!!!***
OCEAN'S DEEP (remake 2013) – * single release*
composed by Inge Wenzel, produced and performed by Chieli Minucci
Great reproduction of the original song, "Oceans Deep", from the CD, I.P. Network, by Inge Wenzel. Produced and performed by Chieli Minucci, triple Emmy winner for TV and Film, 10 nominations and guitarist/bandleader of the group, Special EFX.
Click on the cd cover photo to purchase this song!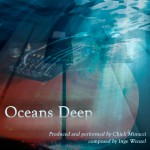 IP NETWORK – SmoothJazz solo CD from Inge Wenzel
Great smoothjazz by Inge Wenzel with national and international guest artists.
For sale with CDbaby or contact Inge at this website.
Out of the Box – band CD
First CD with compositions from Inge Wenzel played by the group Out of the Box. A mix of smooth jazz, funk and r&b, right from the Netherlands. All songs are own compositions, inspired by great contemporary saxophone and keyboard musicians.